Alvarez Guitars Catalog
Regent Guitars
Click for PDF


The first thing I want to know about a steel-stringed guitar is whether it has an adjustable truss rod through the neck, because steel strings put a lot more stress (or torque) on the neck than the nylon strings of a classical guitar. If the strings aren't the proper height above the fingerboard, I adjust the truss rod until the guitar neck is set up right.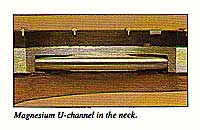 Alvarez guitars have a magnesium U-channel embedded in the mahogany neck. An adjustable steel rod in the metal channel extends the entire length of the neck, through the heel, and into the inner block. The longer the neck rod, the greater the area it can correct. What it adds up to is a stronger yet slimmer neck and precise, effective adjustment.

Alvarez Regent guitars are economy models - excellent straightforward guitars without extra cosmetic touches. They all have the adjustable U-channel/steel rod reinforcement, and they all have genuine inlaid sound hole decoration, unlike some other brands which have decals.
Sidebar 4
The great luthier Antonio Torres (1817-1892) is revered as the Stradivarius of the guitar. Drawing on the best designs that had gone before, Torres established the size and proportions of the body as well as of the fingerboard, standardized the length of the strings, and developed new patterns of fan bracing to produce a more resonant top. His best instruments had an elegant simplicity of form that has never been surpassed.