Alvarez Guitars Catalog
Classical Guitars
Click for PDF


A classical guitar can be a good choice for the occasional player because the strings are soft nylon—easy on the fingers. The sound is more muted, and has a rich organic tone that steel strings can't duplicate.

I spend about half an hour adjusting each guitar. I sand and polish the frets and put graphite in the nut slots for the strings. I oil the fingerboards and run my fingers on the edge of the neck and check for properly filed and crowned frets. If I find any rough edges, I file them smooth. Frets on all Alvarez guitars are made of German silver, which is good for long life and a smooth feel.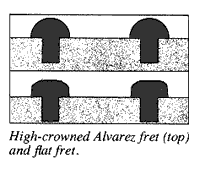 High-crowned Alvarez frets touch only a small section of the string, allowing a clearer pitch than a flat fret, which deadens a wider area of the string.

A guitar top is designed to act as a resonator, an acoustic amplifier that moves a larger mass of air than the strings could move by themselves. The resonating surface must be able to respond freely without sacrificing strength. I use a mirror in the sound hole to see if the internal braces are tight, well-cut and sanded. If they're fuzzylooking and roughly formed, the rest of the interior is probably the same. A good clean finished interior means the guitar is well made.
Sidebar 3

Fernando Sor (1779-1839) was the greatest guitarist of the Romantic era.
The guitars of Sor's time had a mellow but weak tone; he encouraged guitar makers to produce lighter instruments for him, with top, ribs and back made of very thin woods, supported by interior bracing that distributed the vibrations of the strings, via the bridge, to the entire top surface, rounding out the bass and enlarging the sound of the whole instrument.
After Sor's death these design principles were finally codified and perfected by the great luthier Antonio Torres.