Alvarez Guitars Catalog
Mandolins 2
Click for PDF

I then check the action, that is, the distance that the strings sit over the fingerboard. this depends on the height of the nut and the bridge. The strings should be held off the fingerboard by the nut, close enough for comfort, but not enough to make them buzz against the fingerboard. I prefer an adjustable bridge, because then I can adjust the action to any tolerance I like, but that is a matter of personal preference. I then check the tailpiece to make sure that it holds the strings firmly without rattling, and that it is set the proper distance from the body.

Finally I check the finish and the overall quality of the instrument. You may prefer plain or fancy, but in any case there is no substitute for attention to detail. The craftsmanship of inlays and bindings and the care with which the final finish was applied tell you a lot about both the manufacturer and the instrument.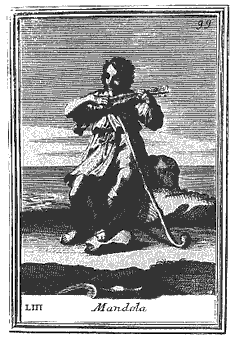 Sidebar 11
The mandolin was a smaller version of the lute that gained popularity in the late 1700s. Italian towns each produced their own versions of the instrument, often lavishing as much ornament as possible on them to make them more pleasing objects to possess.

The mandolin as we know it today is actually the Neapolitan version: compounded from every kind of fretted instrument, oriental or Western, that was known in 18th-century Naples.