Alvarez Guitars Catalog
Artist Guitars 2
Click for PDF


All Alvarez artist steel-string guitars have a double reinforced neck: a magnesium U-channel cradling a steel truss rod. Access to this rod is inside the sound hole instead of at the headpiece. It's a great improvement. You don't have to take a plate off the headpiece to adjust the truss rod, and the longer rod controls a larger area of the neck.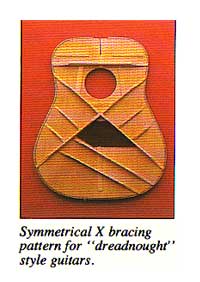 Flat-top "dreadnought" guitars like these have a stronger symmetrical X bracing pattern different from the fan bracing of classical guitars. Because of the difference in response of the treble side and the bass side, the treble side is braced more stiffly to provide balanced volume. And because the bass strings exert a lot more pull than the higher strings, the X is offset.
Sidebar 5
Fernando Sor wrote his first opera, "Telemachus on Calypso's Isle," when he was 18. The year was 1797, his instrument was the guitar, and the opera was a hit.

Sor was the first and only guitarist invited to perform with the London Philharmonic in its first 400 years. When Sor made his London debut in 1815, nobody could believe that such magical and surprising effects could be produced on the guitar.

Indeed, there was suppressed laughter when he first came on stage--laughter that soon changed into unbounded admiration when he began to play.