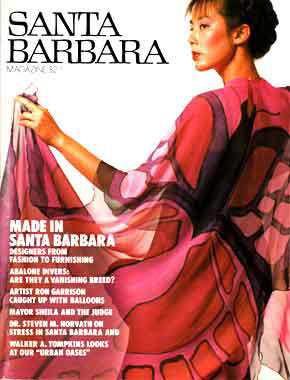 They also expected me to copywrite ads. Free.
We were already ill-paid, but we all pitched in where needed. We'd do anything to help the startup get going. If an advertiser bought a full-page ad but needed text, no problem! And many of the articles I wrote for the magazine were already de facto PR pieces for advertisers.
Some of the advertisers were willing to pay extra for me and the art director to create brochures for them on the side. I wrote them like magazine articles about the company. That made them stand out in the ocean of competitors' stuff written in standard ad twaddle.

I studied the best textbooks about copywriting and applied their precepts. My theory is that copywriting is writing, and the same standards apply. You create clear, vibrant text by using active verbs and concrete nouns, not the passive abstractions of business jargon. My goal was to present persuasive facts in an interesting way.
Eventually I was writing a lot more brochures than magazine articles. I became known among the local Santa Barbara art directors because they won awards with the ads and brochures that were based on my copywriting.
I worked with art director John Alexander and wrote a catalog and magazine ads for a mail-order stereo retailer in San Luis Obispo. The campaign turned around their sales and won a Gold Mailbox award from the Direct Marketing Association.
Santa Barbara Magazine also won Maggie awards for Best Regional/City Magazine two years in a row.
While visiting family in Detroit I heard about an opening at BBDO, the fourth largest ad agency in the world. I presented my portfolio and was hired immediately. They were impressed by a brochure I had written and creative-directed for a California manufacturer of a new limited-production automobile.
I wrote hundreds of standard print ads and radio and TV commercials for Dodge, but BBDO was not interested in the kind of personal and interesting ads I wanted to do.
I left after a couple years and went back to California and produced my first major hit of a campaign: a brochure and a series of ads for guitar pickups made by Seymour Duncan.
Seymour was well known in the rock-star community for his custom pickups, but his mom & pop business operation couldn't survive on sales to rock stars. He needed to reach the mass market.
I studied the competition and saw that they were all using rock-star endorsements, with no information about the guitar pickups themselves. Nobody was explaining why you should put a new pickup in your guitar.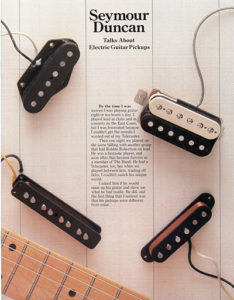 Working with art director Mark Oliver, I proposed that we do a brochure focusing on the pickups themselves, with commentary from Seymour explaining why each one was different from the others.
I interviewed Seymour extensively and wrote the brochure in first person, as though Seymour himself were telling the story.
The brochure was introduced at the National Association of Music Manufacturer's convention, and was an instant hit, catapulting Seymour Duncan into industry leadership. And it's now in the permanent collection of the American Institute for the Graphic Arts.