Technical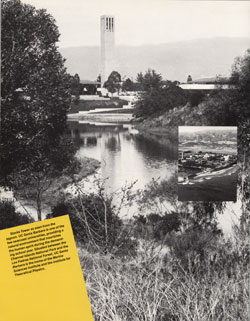 University of California
at Santa Barbara
Computer and Electrical Engineering Department
Storke Tower as seen from the lagoon. UC Santa Barbara is one of the few seacoast universities, providing a natural environment that nourishes the human spirit during the demanding school year. Situated between the Channel Islands National Park and the Los Padres National Forest, UC Santa Barbara Is the home of the Marine Sciences Institute and the Institute for Theoretical Physics.
Santa Barbara's sunny and mild climate has earned it the nickname "the Riviera of the west." The shoreline has sun all day because it faces due south--the only such geographic anomaly on the West Coast from Cape Horn to Alaska. The Santa Ynez mountains are part of the east/west-running Transverse Range.
The Santa Barbara Campus
A campus of the University of California for 38 years, UCSB is a well-balanced, medium-sized university with a special concern for good teaching. Its distinctive character is its strength across the traditional academic fields, with many interdisciplinary and independent study programs. The bachelor's degree is offered in over 70 subject areas, and the graduate division offers 42 masters and 29 doctoral programs. UC Santa Barbara is one of the nine campuses of the University of California, generally acknowledged as being the greatest system of public higher education in the world.
Total campus enrollment is approximately 15,000. The College of Engineering has about 1600 undergraduate students and 320 graduate students, with 600 of the undergraduates and 240 of the graduates in the Department of Electrical and Computer Engineering.
Campus and Community
UCSB is situated on an ocean-front promontory of 815 acres about ten miles west of the city of Santa Barbara. Most of the forty permanent buildings of the university are on the Main Campus. The Storke Campus contains playing fields and a housing complex for married students. The West Campus is largely undevel¬oped and contains an ecologically significant expanse of dunes which have been set aside as a natural preserve.
The Santa Barbara climate is ideal for outdoor activities year-around. UCSB recreational facilities include tennis courts, more than a mile of swimming and surfing beach, an Olympic-sized swimming pool, extensive playing fields, a synthetic-surface track, a baseball diamond, two gyms, and a 14,000-seat stadium. An Events Facility has recently been built for intramural and intercollegiate events and selected popular concerts.
The Community
Adjacent to the university is the community of Isla Vista, made up of 10,000 residents, more than half of whom are UCSB students. Less than a square mile in area, it has provisions for a variety of student services and needs. The beautiful and historic city of Santa Barbara offers a diversity of natural and cultural attractions. Notable among these are the "Queen of the Missions," the Museum of Art, the Historical Society Museum, the Museum of Natural History, and the Botanic Garden. Santa Barbara is a two-hour drive from Los Angeles.