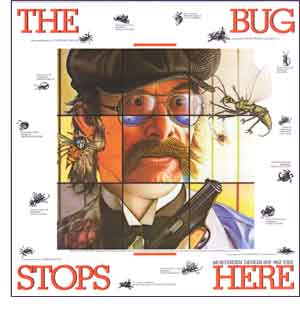 Gordon Mortensen's
direct mail campaign
Freelance creative director Gordon Mortensen was planning a direct mail self-promotion. His idea was to mail out a ten-part piece. Every day the recipients would get one chapter of a detective story along with a picture.
For the pictures, he cut a photo of himself into 9 squares and had 9 different well-known artists render the squares. He had them insert bugs into the pictures because he liked pictures of bugs.
Each chapter of the story had to fit on one side of a half-sheet of paper, so the story had to be ultra compressed.
Then all that was left was to come up with a story that starred him as the hero. It was a real Rorschach test for me, especially since Gordon knew only that he wanted a detective story. He asked me to write it in the style of hard-boiled Los Angeles detective writer Raymond Chandler, but I kind of veered it over to sci-fi by the end, and I aimed a few barbs at the world of graphics competitions.
For nine days the recipients got one chapter and one picture per day. On the tenth day they received a poster with the fully assembled picture and a booklet with every chapter of the story.
Ironically, the promo won all kinds of awards in the graphics competitions and was featured in an article in Communication Arts magazine ("A Graphic Designer's Unusual Self-Promo Campaign.")