StubHub
I wrote blurbs for StubHub.com.
My supervisor was Rosemary Williams, Content Manager.
Typical blurbs:
San Jose Grand Prix Tickets 
A little bit street party, a little bit street fight
No other high-speed race in North America actually takes place downtown. This 1.45-mile, 11-turn circuit winds past the Tech Museum and the SJ Convention Center, and the Champ Cars rocket through Cesar Chavez Plaza at 155 mph. It's racing up close and personal: you can see the drivers fighting to maintain control in every single corner.
Shell Houston Open Tickets 
Houston,  we have a tournament.
This year's tournament is  one month earlier, promising better weather and firmer, faster course conditions.  Renowned golf course designer Rees Jones has fine-tuned the Texas-big Redstone Golf Club tournament course,  which has a lot of room for spectators. It's able to handle 50,000 fans a day with 50 acres of parking.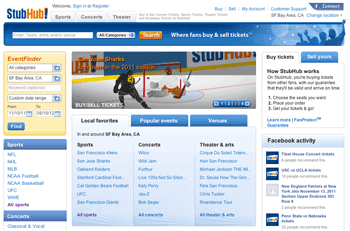 Buick Invitational Tickets 
Will Tiger Take the Fifth?
Torrey Pines is a formidable venue standing between Tiger Woods and his 5th Buick Invitational championship. It's one of the top-five courses on the PGA Tour schedule--proof once again that the best golf architect is nature. La Jolla isn't exactly a bad place to spend a week in January, either.
Grand Prix of Cleveland Tickets
Hear the Roar on the Shore 
The bumpy 2.106-mile course on the runways and tarmacs of Burke Lakefront Airport is one of the toughest to drive in the Champ Car series. Fans can see the entire track from any seat in the grandstands, and new jumbo television screens and reconfigured pit lanes give fans a tremendous view of the action.