Richard C. Datin, Jr.
October 10, 1929-January 24, 2011
Born in Syracuse NY, on October 10, 1929, during his lifetime he resided at a number of places, including Petersburg, VA, Brooklyn, NY, Hollywood, Malibu, and Lafayette, CA, Reno and Sparks NV.
A 1950 graduate of New York Institute of Applied Arts & Sciences of Brooklyn NY,
where he acquired a degree in Architectural and Structural Technology. Richard pursued a career of engineering and of the arts, culminating in his own long-time business of building architectural and structural scale models for firms in the Los Angeles area. Among his most noteworthy accomplishments were studio models for the original The Star Trek TV series, plus Petticoat Junction and numerous props for TV commercials such as Alka-Seltzer, and Jolly Green Giant during the 60's. This brought him to be employed by Twentieth-Century Fox for the motion picture Tora, Tora, Tora. Later he found employment at Litton Industries, AMTD Division in Venice CA and Bechtel Power in San Francisco.
His career changed abruptly in the mid-1970's when he moved to Nevada where he was engaged by the Nevada Historical Society as a researcher, followed by a brief stint at UNR Special Collections. His love of Nevada history, railroads and research abilities brought him to furnish weekly articles for the Carson City's Nevada Appeal for a number of years. In 1979 he was selected as the founding curator of the Nevada State Railroad Museum. As an avid collector of old toy trains and vintage post cards, Richard became a dealer at many antique shows up and down the coast.
Following his retirement in 1989, he dedicated most his time researching a number of pet projects including writing and publishing a history of Virginia City's International Hotel, as well as a pictorial of Reno's past utilizing his vast collection of historical post cards.
Other projects still on the shelf included a history of the famed Reno Arch, the history of Reno and a comprehensive history of the Carson & Colorado Railroad.
Richard C. Datin Jr., only child of the late
Richard C. and Mary Loson Datin,
formerly of Laguna Hills, CA
passed away on January 24, 2011 in Reno, Nevada.

Richard Datin, Mel Keys, and Vernon Sion with the Enterprise in the street in 1964.

Star Trek Magazine's appreciation of Richard Datin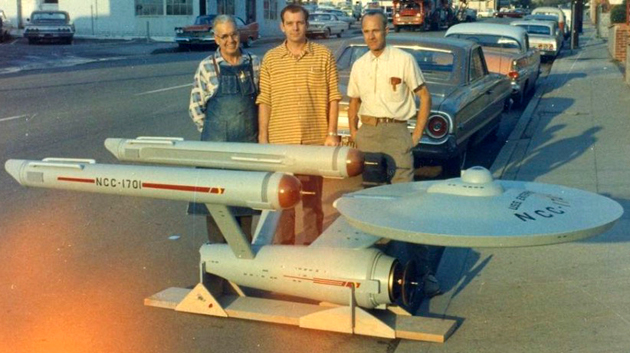 1964 photo of the guys who built Star Trek's Enterprise studio model.